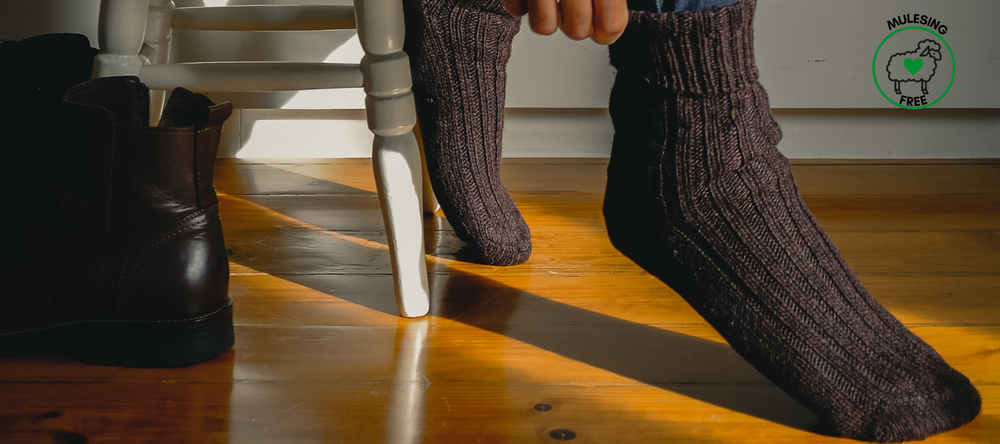 Why you should choose mulesing free socks? Find out
Comfort and style don't come at any cost. That's why at The Captain Socks we use wool that is mulesing-free. Find out more about this subject.
At The Captain Socks we believe that we can provide you with premium products without affecting their quality and source. That is why our wool socks are mulesing-free, which make us so proud.
But why is this important? What is mulesing?
Mulesing is a practice in which skin is removed from the rear of sheep, without any form of anesthetization. The goal is to prevent flies from laying their larvae on the animals because when sheep become infected, they can get ill with serious infections which can even lead to the death of the animal.
Some sheep may have an unnatural overload of wool and besides attracting flies, this can cause the sheep to collapse and even die of heat exhaustion during hot months.
We see this method mainly in Australia, and occasionally in New Zealand, because of the hot weather and how it affects an animal's health and wellbeing. After all, most of the world's wool comes from Australia.
That is why mulesing is a barbaric procedure, causing pain and completely unnecessary suffering to sheep. The goal is to create smoother skin that won't collect moisture.
But is it worthy? Is it necessary? We believe not. For that reason, our string's socks are produced in Portugal, in Guarda, and the wool is collected from sheep raised in Alentejo, where they have the perfect conditions to grow happily and healthily.
So, when you buy products from The Captain Socks, you can be assured that you're buying 100% national products from locations and manufactures that respect the animal, the raw material and the entire process.
Using mulesing-free free wool is the right option, and the only one we consider to be the correct way to make our socks.
You can use still use wool: how and why?
The Captain Sock's wool socks have an optimal level of warmth, acting as a body temperature regulator and stylish both for men and women.
At our online store, you can find different colours to match your style and they can be yours in just a few steps. And what a better time to experience this stylish and comfortable than in Wintertime? Want more reasons to buy? Check it out.
1. Provides comfort
When you touch these wool socks you can immediately feel the softness of the fabric. It is a sensation that comforts not only the body but also the heart.
2. Helps regulate body temperature
The wool socks are very warm. This is a characteristic that helps regulate body temperature whether you are indoor or on the outdoors.
Besides that, the wool also absorbs moisture without feeling wet or cold. 
3. Prevents bad odour
Wool outperforms any other fabrics when it comes to odour-fighting capabilities.
4. Skin-friendly
If you have sensitive skin you know, better than anyone, that some fabrics can be not only uncomfortable but also cause irritated skin. It doesn't happen with this kind of wool.
5. Less pilling
How many pieces of clothing do you have at your home that is not in good conditions? Wool pieces can be easily damaged, but not when you work with the best products and producers. By doing that we can assure you socks that will last you a long time.
How should you wash wool socks?
There is no doubt that the washing process, if not done right, can make more damage than good to some pieces, especially wool. So, to grant the continuous quality of your The Captain Socks made out of wool, you should only wash then when necessary and always use a mild detergent specifically for wool. If you can wash them by hand and with cold water.